EFCC's Lamorde To Appear Before Senate Today To Explain Alleged Diverted N1trn From Looters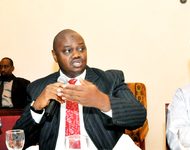 The Chairman, Senate Committee on Ethics, Privileges and Public Petitions, Senator Samuel Anyanwu, said on Tuesday that the upper chamber would go ahead with the planned probe of the Chairman of the Economic and Financial Crimes Commission, Ibrahim Lamorde, scheduled for today (Wednesday).
Anyanwu, a Peoples Democratic Party member representing Imo East Senatorial District, who stated this in Abuja while speaking with journalists, explained that he was not bound by the advice of his party's caucus in the Senate because "I take directives only from the Senate leadership."
He said, " As the Chairman, Senate Committee on Ethics, Privileges and Public Petitions, I am answerable to the Senate in the first instance. This committee attends to every petition that comes from the public and the invitation to the EFCC boss is one of those petitions and the petitioner is going to appear before the committee.
"This is a standing committee of the Senate. It is not only the EFCC boss that has been invited, there are other petitions and we have invited the petitioners and those that are petitioned."
Anyanwu said the committee had also extended invitations to the management of the Federal Inland Revenue Service, and the Comptroller-General of Customs, who would also appear before it today (Wednesday).
He said, "We are guided by the Senate Standing Rule and the 1999 Constitution to invite anybody when the matter arises."
The senator described as incorrect, an allegation by the EFCC spokesperson, Wilson Uwujaren, that his committee did not follow due process in the planned probe of Lamorde.
He said, "That (allegation) is not correct. There are ways petitions can come to the Senate. A petitioner can write straight to the Senate President and the President will send it to the appropriate committee that is involved."
He explained that the copy of the petition against Lamorde had been sent to him together with the letter of invitation, stressing that he could not determine the action the Senate would take against the EFCC boss in case he failed to honour the committee's invitation.
Anyanwu said, "I cannot conclude that (Senate action against Lamorde) now because I will be pre-empting what is not available. Let's wait until tomorrow (Wednesday) to know what the Senate will do if he doesn't come. He is not summoned, this is an invitation."
He explained that the press statement by the PDP minority leaders did not represent the opinion of the entire members of the party in the Senate because most members were not around since the red chamber was on recess.
He debunked insinuations that his committee was being used to execute a vendetta against the EFCC boss by Senate President, Bukola Saraki, for investigating his wife over an alleged corruption-related issue.