PDP Wants Akinwunmi Ambode To Probe Former Governor Tunde Fashola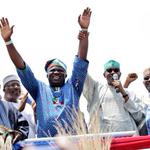 The Peoples Democratic Party in Lagos has denied rumours that it was behind the recent call for the probe of Governor Akinwunmi Ambode's immediate predecessor, Babatunde Fashola (SAN).
And then, in a not-so-surprising twist, it called on Ambode to probe his predecessor.
The PDP, evidently in denial mode, also said it had nothing to do with the ongoing crisis in the ruling All Progressives Congress in the state.
The PDP said APC leaders should face the allegations instead of blackmailing or dragging the opposition party into its internal mess.
It also reiterated its commitment to being a resolute and vibrant opposition to the incumbent administration.
"As long as we notice any "misgovernance", we will blow the whistle. We shall not relent in doing this constructive opposition. It does not matter whether it coincides with efforts of other groups or interests in the state. We shall commend when appropriate and condemn when inevitable in good faith for good governance and expected growth of Lagos State," the PDP Publicity Secretary, Taofik Gani, said in a statement made public on Sunday.
According to Gani, the call for Fashola's probe by the Coalition Against Corrupt Leaders relating to allegations of fraud during the former governor's administration has vindicated the PDP's persistent stance that "the Fashola administration was a fluke.
"Indeed, several times during his administration, we had shouted that the governor was running a propagandist government and that the state was being plunged into avoidable local and foreign debts.
"With over N27bn in monthly internally generated revenue, the state does not need to borrow to carry out projects," the statement added.
"He got loans to complete such projects within eight years only to mismanage and or divert such loans. Under Fashola, the SUREP funds well over N32bn meant for the state could not reflect in any project and was not accounted for. The local and foreign debts of about N1tn is there for Lagosians to pay through over-taxation.
"The PDP has consequently supported and charged Ambode to probe his predecessor. The incumbent governor must speak out now! Anything short of a categorical statement as to whether Fashola is clean or not is a disservice to the state. Lagosians want to know what the new occupier of the office met, especially the actual amount in loans collected," the statement concluded.