APC Candidate, Dakuku Peterside, Magnus Abe, Others Tear-gassed At INEC Headquarters Abuja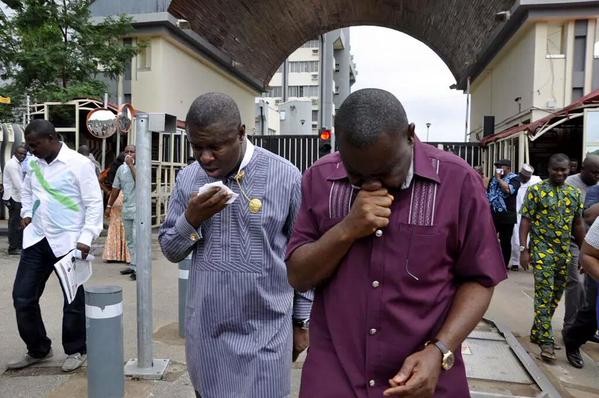 There was confusion at the Independent National Electoral Commission (INEC's) headquarters on Wednesday as armed policemen tear gassed the governorship candidate of the All Progressives Congress (APC) in the last general election in Rivers State, Honourable Dakuku Peterside and 47 other candidates of the party in the elections.
It was gathered that the aggrieved APC candidates, had staged a peaceful protest at INEC office, over the refusal of the Resident Electoral Commissioner (REC) in the state, Mrs Gesila Khan, to release for inspection electoral materials in accordance with the ruling of tribunal.
Nigerian Tribune learnt that the candidates, who arrived INEC premises at 11:15a.m., lamented that while they have individually submitted petitions against Mrs Khan and her refusal to make those documents available and nothing had happened, which informed their decision to come to the commission's headquarters.
Peterside, who led candidates on the peaceful protest, wondered why the REC had refused to comply with the order of the election tribunal, alleging that the REC claimed she was working under the instruction of INEC headquarters.
The petition addressed to the commission by the group which was eventually submitted at INEC, reads in part "it is highly worrisome that the Independent National Electoral Commission (INEC) which ought to assume position of an unbiased umpire has now thrown caution to the wind and is now hobnobbing with the other respondents in the aforementioned petitions to frustrate the speedy and efficient determination of the petitions.
"The foregoing collaboration and partnership between the commission and other respondents to the petition is confirmed by the commission's refusal to allow our experts inspect electoral materials, refuse to produce properly certified true copies and the series of objections filed by counsel to the commission challenging the tribunal's order for inspection of electoral materials."
Other candidates at the protest include Senator Magnus Abe, Honourable Andrew Uchendu, Honourable Otelemaba Amachree, Chidi Julius Lloyd and Victor Amadi.
The state chairman of the APC, Denis Ikanya, was also one of the leaders of the protest.
The peaceful protest, however, took a twist as security operatives fired three tear gas canisters at the candidates while one of the policemen threatened to shoot a television reporter, who was trying to get clips of the incident.
Mr Victor Egbun, INEC Deputy Director on security, who was initially delegated to meet the protesting candidates at the outer check point, had told them to nominate three persons to represent them at the meeting with the INEC chairperson.
He noted that it was the standard procedure at the commission, noting "I plead with you to corporate with us. Select three people to follow you and bring you to our office."
The acting chairperson of the commission, Mrs Amina Zakari, however, refused to meet with the candidates individually, insisting that she would only meet with their representatives, which should comprise three persons.