"Let Him Allow The Kingmakers Do Their Job" – Bode George Accuses Bola Tinubu Of Selecting The Next Ooni Of Ife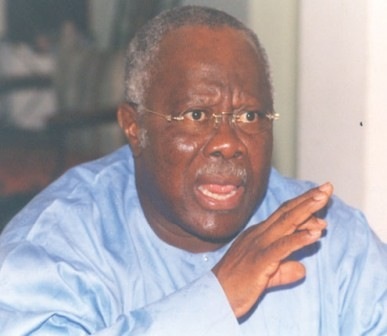 A former Deputy National Chairman of the Peoples Democratic Party, PDP, Chief Bode George, has warned the National Leader of the All Progressives Congress, APC, Asiwaju Bola Tinubu, to steer clear of the process of selecting the next Ooni of Ife.
George, who is the Atona Oodua of Yoruba land, told The Punch on Monday that Tinubu should not use his relationship with the Osun State governor, Mr. Rauf Aregbesola, to manipulate the process.
"He will be making attempts to manipulate the process. They will do politics with it but it will blow up. They should allow the kingmakers do their work. If he manipulates the process, he will create a huge problem in Yoruba land.
"Let him allow the kingmakers do their job. He should not set Yoruba land on fire. Aregbesola should, instead, focus on paying salaries."
According to George, the politics of Ife is not like that of Lagos and Tinubu should not set a bad precedence in Yoruba land.
"He (Tinubu) tried it at the National Assembly but came back with a slap. He should, therefore, not go out of his way to bring in an APC-inclined man as the next Ooni. We want an Ooni that will be fair and not connected with all these politicians.
"We need an experienced person. We want the person that the kingmakers will approve of. As the Atona Oodua, I know how these things are done."