Buhari Sets Up Presidential Advisory Committee Against Corruption, Appoints #BringBackOurGirls Founder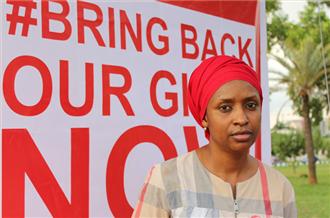 President Muhammadu Buhari on Monday set up a Presidential Advisory Committee against Corruption and a founder of the advocacy group, Bring Back Our Girls, Hadiza Bala Usman was also appointed in the committee led by Prof. Itse Sagay.
Hadiza Bala Usman is the Kaduna State Governors Chief of Staff, perhaps the first woman to be so appointed since the office was created in 1999, with the return to democratic rule in Nigeria.
His government has also supported the establishment of an Anti-Corruption and Criminal Justice Reform Fund by three international development partners namely the Ford Foundation, MacArthur Foundation and Open Society Foundation with $5 million fund to assist implementation of key components of the Action Plan and the work of the Presidential Advisory Committee.
The advisory committee is to be headed by a prominent professor of law and civil rights activist, Professor Itse Sagay.
Other members of the committee included Femi Odekunle, a Professor of Criminology from Ahmadu Bello University, Dr. (Mrs) Benedicta Daudu, an Associate Professor of International Law, University of Jos, E. Alemika, Professor of Sociology, University of Jos, Sadiq Radda, Professor of Criminology, Bayero University, Kano, Hadiza Bala Usman, a Civil Society Activist and Bolaji Owasanoye from Nigerian Institute of Advanced Legal Studies who will also serve as Executive Secretary of the Committee.
The Committee's brief is to advise the administration on the prosecution of the war against corruption and the implementation of required reforms in Nigeria's criminal justice system.
It is also expected to develop comprehensive interventions for achieving other recommended reforms.
A statement from the presidential spokesperson, Mr. Femi Addsina added that "fund will be managed by Trust Africa, an international development Civil Society Organization with programme presence in more than 25 African countries."