Evidence of a Newspaper Clippings shows that Director-General of the DSS, Mr. Lawal Daura, was actually appointed a member of the All Progressives Congress Security Directorate during the Presidential campaign which clearly shows his partisanship.
The Peoples Democratic Party (PDP) on Wednesday alleged that the Director General of the Department of State Security (DSS), Alhaji Lawal Musa Daura, is a card-carrying member of the ruling All Progressives Congress (APC).
Though the APC has denied the allegation by the PDP that is not a card-carrying member of the party (APC), calling the accusation absurd and frivolous.
The publication seen below was announcing all the members of the Presidential campaign committee during the campaign for President Muhammadu Buhari.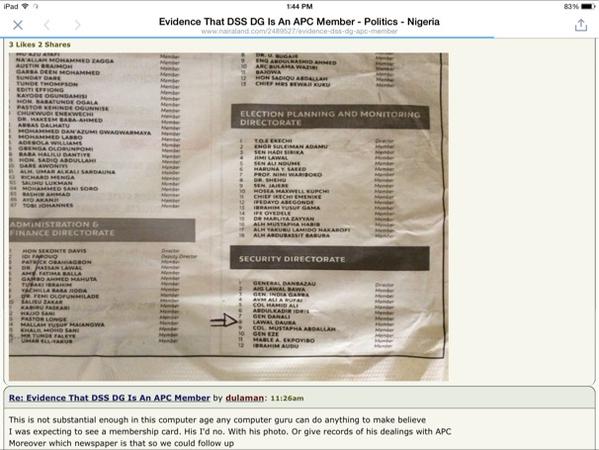 In a statement issued in Lagos on Thursday by its National Publicity Secretary, Alhaji Lai Mohammed, the party challenged the PDP to publish any evidence it may have to confirm the allegation, adding: "After all, it is trite that he who alleges must prove."
"In the absence of that, the PDP must call another press conference to publicly apologize to all Nigerians for engaging in barefaced lies," it said.
APC expressed shock that the PDP has started exhibiting all the symptoms of hallucination so soon after its gravy train derailed, saying it's obvious that the party has now started hearing voices.
Daura,DSS boss, is pictured here congratulating the President-elect.PDP accuse him of being APC campaign Intel Chief pic.twitter.com/3G9eCZpftz

— Nnamdi Anekwe-Chive (@nnamdianekwe) July 30, 2015
Shortly after Buhari was declared winner, Pictured in that image is Mr Daura congratulating President Muhammadu Buhari at the campaign headquarters in Abuja..
Another incontrovertible Evidence to show the DG of DSS is a card-carrying APC Member...Buhari will DESTROY Nigeria!! pic.twitter.com/k5HDfssdEL

— Opposition Figure (@Tomyboiz) July 30, 2015
Related Posts via Categories