Buhari Can't Perform Magic, Needs Time – Tinubu Tells Nigerians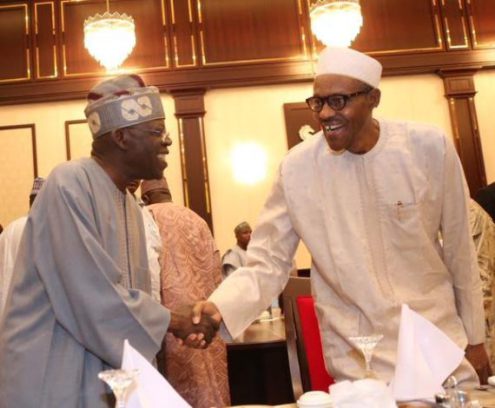 The National Leader of the All Progressives Congress (APC), Asiwaju Ahmed Bola Tinubu on Tuesday declared that President Muhammadu Buhari cannot perform magic to bring instant changes to the country.
He said that Buhari needs time to plan, examine, re-evaluate what is on ground towards taking accurate steps that will bring about the changes Nigerians desire.
Tinubu spoke to State House correspondents after meeting President Buhari at the Presidential Villa, Abuja.
According to him, Nigeria has had many problems because of policies that were created without adequate and effective planning.
Responding to a question on delayed changes expected by Nigerians, he said: "Excuse me! Let us calm now here. How long ago? May 29th was when this president was sworn in. It is an international norm all over the world, there is an honeymoon period, at least minimum of 100 days honeymoon.
"And you won't allow honeymoon at all? You said change is not coming, change is not by magic it is driven by the people, the spirit and the character and the planning.
"You see, we have had so much problem in this country in the past because we run into policy blind folded without adequate and effective planning you don't have results unless you plan well," he said.
Continuing, he said: "The time it takes you to plan, examine, rejig, re-evaluate is more important than the time you just rush into taking action because you are either being sentimental, being emotional and being driven by other forces that are not expected.
"It is not fair to jump into those conclusions. There must be time to plan, to review and even listen to people. There is a separation between a campaign period, articulating your vision, expressing the promises to Nigerians, there is a time to look at wholistically what you inherited, analysis it, distill and then take action.
"Even in 100 meters race, there is a time to say on your mark, set, ready, go. So you don't even want a time to be on your mark, set and go? No no no. You are not being fair." He added
He said that the purpose of his visit to President Buhari is to ensure that the right tract is maintained.
He said: "The purpose of this visit is to see my president and our leader. The purpose is to ensure we are on the right tract and coming back from a very successful trip to United States of America."
On the report that the President's meeting with APC members in the House of Representatives on Monday was deadlocked, he said: "That is the conclusion of the press. Deadlock if we are going for literally translation that is people's opinion, I have not read any comment from the parties whether it was deadlock or not, that is the media conclusion.
"But the question is a political process it needs to develop its own life to be worked upon to really stabilize and continue to serve the interest of the populace. As a matter of fact when the National Assembly job starts, the job of lawmaking in earnest, the president needs to step in once in a while as he did to let people to understand the import of the expectations of the public and particularly of the international community on various Programmes and institutions.
"We need to build the institutions, make it viral and effective for the entire country. To step in to douse any conflict is not a wrong thing or do you think is wrong?" he queried.