Osun Crisis, Beyond My Control – Says Rauf Aregbesola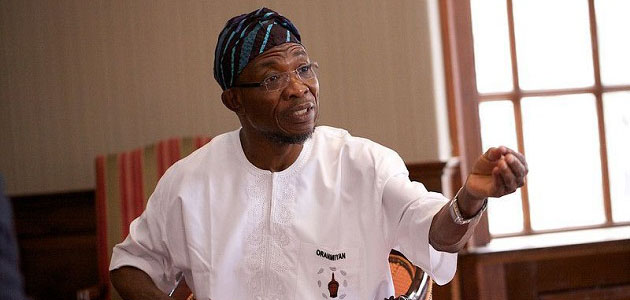 Governor Rauf Aregbesola of Osun State on Friday said the economic situation in the state that led to his administration's inability to pay workers' salaries was beyond his control.
He said it was heart-rending that he had found himself in the situation which he described as a quagmire.
Aregbesola spoke with State House correspondents after meeting with President Muhammadu Buhari behind closed-doors at the Defence House in Abuja.
He said he was not happy the same way a head of a family would feel when he cannot meet the needs of his family members.
He said, "No head of the family will be happy that he cannot feed members of the family.
"Extend that to state, it is heart-rending that I am in this quagmire.
"But no matter how sad (I don't want to use the word 'depressed'), no matter how unhappy I am, the truth is that I will not fail to say that it is a situation absolutely beyond my control.
"I led an administration in receipt of regular allocation in which I do my budget.
"Unfortunately, this allocation started falling in rapid form that totally disorganised my budget and any other arrangement."
Aregbesola said those who want to be objective would readily admit that the Osun State of November 2010 when he assumed office and Osun of today are not the same.
He said people must give credit to the changes that his administration had brought about in the state, saying the changes were not miracles but were occasioned by application of resources.
The governor further explained that with the unexpected and sharp decline in revenue, his administration had a dislocation.
The result of that dislocation, he explained, is the sad experience.
The governor added, "Were it to be Osun alone, probably I would not have an excuse.
"I pray it does not continue. I am not sure if there will be any state that will actually escape from the biting effect of the absolute sharp drop which I call economic disaster that we are grappling with.
"Since my inauguration on November 27, 2010, I had made it a duty to pay salary on or before 25th of every month up until January 2014 when that became practically impossible.
"I have been giving the same staff who today are, regrettably and painfully, not being paid annual bonus that we call 13th month salary. There was no demand for it. I just felt that workers must be encouraged, they must be inspired.
"I did that religiously and faithfully from 2010 to 2013. The development that led to this began precisely in July when we received the June allocation and it was short by 40 percent.
"Since then, what we have been receiving from the Federation Account is less than the wages, personnel cost. It is far and not mildly less."
Aregbesola said he struggled with it till October 2014 when there was nothing else he could do.
He said the situation was further compounded by the fact that his government could not go to bank to borrow to pay the wages commitment.
The governor however said that with the efforts he was putting in place, there might be solution by month end.
"It is a sad development. I am struggling to reduce the pain as much as possible and I am almost at the end of the efforts I am making to ensure that by the end of this month, I will have enough to at least meet to a large extent the salary needs of the workers," he declared.