Buhari's Man, Former Bayelsa Governor, Sylva Says He's Been Vindicated Of All Fraud Charges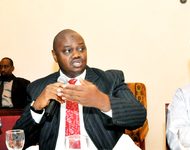 by Deji Abiodun
Following the Federal High Court, Abuja, dismissal of all the charges of corruption brought against the former governor of Bayelsa State, Chief Timipre Sylva, by the Economic and Financial Crimes Commission. Timipre Sylva, Nigeria's President Buhari's man says he's been vindicated as Justice Ahmed Mohammed condemned the EFCC for abuse of court processes.
The former governor who is said to have gone ahead to make sure all the cases against him are squashed is lobbying seriously to serve in Muhammadu Buhari's cabinet as a Minister ahead of his return to Bayelsa to contest the 2016 governorship elections.
Reacting to the ruling, in a statement on Wednesday, Sylva's media aide, Mr. Doifie Buokoribo, said, "The ruling today by Justice Ahmed Mohammed has at long last vindicated Chief Timipre Sylva, and ended an elaborate game of cat and mouse being played by EFCC on purpose to frustrate the political life of the former governor.
"The judge clearly accused EFCC of interfering with the administration of justice and abuse of court process while dismissing all the corruption charges against the former governor."
It would be recalled that last week, the Federal High Court in Abuja, presided over by Justice Chukwu had struck out similar charges against Sylva instituted by the same EFCC.
Buokoribo said, "All the multiple charges by EFCC against Sylva and his associates had a single aim: to persecute, intimidate, and harass him, and in so doing, destroy his political career.
"We are happy that at last, justice has been done in this matter. We are very much relieved that all the attempts by the administration of former President Goodluck Jonathan to keep Sylva away have failed."
Shortly after the judgement, the Economic and Financial Crimes Commission, EFCC has faulted the decision of the Federal High Court Abuja, which today dismissed the 42-count charge of stealing bought against a former governor of Bayelsa state, Timipre Sylva on the grounds of abuse of court process. According to the anti-graft agency, Justice A. R Mohammed in dismissing the charge, erred in law as the accused persons had not taken any plea; no proof of evidence was placed before the court and trial had not commenced.
It noted that the dismissal of the charge by Justice Mohammed, following the application of the Commission to consolidate the charges against the former governor and his accomplices, does not amount to a discharge or an acquittal, and it does not preclude the power of the agency to bring fresh charges against the defendants.
Sylva along with Francis Okokwo, Gbenga Balogun, and Samuel Ogbuku, are alleged to have used three companies – Marlin Maritime Limited, Eat Catering Services Limited, and Haloween-Blue Construction and Logistics Limited to move about N19.2 billion from Bayelsa State coffers between 2009 and 2012, under false pretence of using the withdrawn money to augment salaries of the state government workers.