Another Tanker Explosion Razes Over 10 Houses In Lagos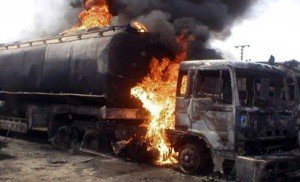 Barely three days after petrol tanker burst into flames at Iyana-Ipaja destroying millions of properties, another petrol tanker inferno occurred at Idimu Bus Stop, Egbe Idimu Local Council Development Area, LCDA, Lagos midnight destroying millions of properties.
Only last week, no fewer than 69 persons burnt to death Sunday evening when a trailer loaded with Premium Motor Spirit otherwise known as petrol that was descending from Army barracks side of Onitsha Enugu express way lost control and rammed into the Asaba Motor Park at Upper Iwekas Onitsha and exploded.
According to eyewitnesses, the incident occurred when two tankers loaded with diesel were in a race to outwit each other and in the process one of the two tankers over-turned spilling its content on the road and immediately burst into flames.
The situation could have been worst but for the timely intervention of the Lagos State Fire Service saved the day.
As at press time it could not be confirmed if there was any loss of lives as the inferno was still raging with fire fighters battling to put out the fire as 3 AM this morning.
However, the fire was eventually put out around 6 AM by men of the fire service. The situation set the whole community into confusion as everyone ran for dear lives.
?Confirming the incident to PREMIUM TIMES, ?the South-West Spokesperson of National Emergency Agency, Ibrahim said the tanker was on high speed before crashing and spilling its content to a stand ?where beans cake were fried.
?He said several residential apartments were affected while fire fighters were able to stop the inferno from spreading to a nearby petrol station.