Thabo Mbeki, Others Approved Alleged $10m 'Bribe' For FIFA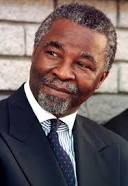 The highest levels of South African government approved a $10 million dollar payment that US investigators suspect was a bribe to get the 2010 World Cup, media reports said Friday.
Then president Thabo Mbeki and foreign minister Nkosazana Dlamini-Zuma approved the payment which the authorities again insisted Friday was for a legitimate development project in the Caribbean.
The new revelations emerged as FIFA remained at the eye of a corruption storm after seven FIFA officials were arrested last week and its president Sepp Blatter resigned.
The South African payment in 2008 was made through FIFA and went to an account controlled by Jack Warner, a disgraced former FIFA vice president from the Caribbean wanted by US authorities for accepting bribes.
US investigators suspect the South African payment was a bribe to get three FIFA executive votes for its World Cup bid. South African authorities say the $10 million payment was an honest donation to support football among the "African diaspora" in the Caribbean.
"President Mbeki spoke with the leadership of the 2010 World Cup local organising committee," Sports Minister Fikile Mbalula told the Beeld newspaper when asked who decided to pay the $10 million.