APC Senator Wants Subsidy Removed To End Fuel Scarcity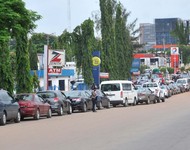 Vice Chairman, Senate Committee on Petroleum (up­stream), Senator Kabir Marafa, has called for the removal of oil sub­sidy to end the lingering scarcity of the product in the country.
Marafa, representing All Progressives Congress (APC) Zamfara-Central Dis­trict, made call yesterday in an interview with the News Agency of Nigeria (NAN) in Abuja. Also, he called for the deregulation of the oil sector.
He said the unending sub­sidy claims were due to the non-deregulation of the sec­tor. The senator decried the present situation where fuel meant for the country was being diverted to other Afri­can countries.
He said: "With all sense of responsibility, I think Nigerians need to stand up and say enough of this hy­pocrisy. This thing called fuel subsidy, I don't believe there is one, I don't believe it is benefitting the masses and it does not help them in any way as far as I am con­cerned.
"So long as fuel is sell­ing at a lower price than some other neighbouring countries, you will continue to have fuel going through the borders out. Until they (neighbouring countries) get enough before the local mar­kets can be satisfied.
"If Nigerians want to help this incoming administra­tion and if this incoming ad­ministration wants to help, I think we need to look at the issue of this subsidy and do away with it once and for all.
"If you deregulate the market, you allow whoever wants to bring petroleum products into the country to go ahead and bring it; you regulate only that fuel will not sell as much as it is sell­ing now.''