Muslim Fundamentalists Blasts Nigeria's President-elect, Buhari For Shaking Hands With Women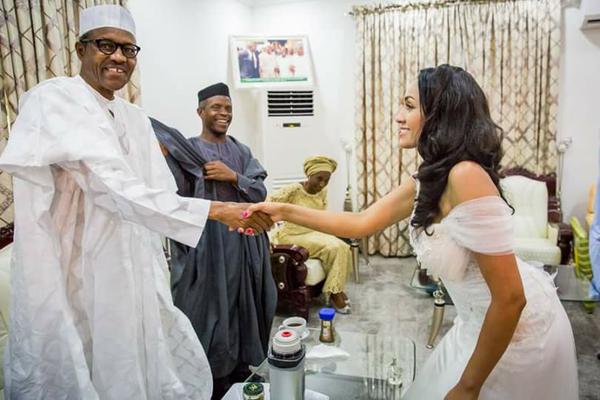 by Musa Abdullahi
President-Elect, M. Buhari don't have to shake the hands of a female. That is forbidden in our book. We see what this will lead him to.

— Hassan A. Ibrahim (@_HassanIbrahim) May 17, 2015
We the Muslim community on Twitter condemn Buhari for shaking hands with a female. He knows that is haram and rejected.

— Hassan A. Ibrahim (@_HassanIbrahim) May 17, 2015
Don't insult our religion with your filthy opinion. GMB knows what is right to do. He should apologise for doing that hand shake.

— Hassan A. Ibrahim (@_HassanIbrahim) May 17, 2015
Some Muslim fundamentalists are rebuking Nigeria's President-elect, Muhammadu Buhari, on social media, for "Un-Islamic handshakes" to women.
Those arguing against who also double as the President-elects supporters say Buhari, a Muslim from Northern Nigeria should not shake the hands of women.
Amnesia is Pa Buhari forgetting he is a Fundamentalist while giving a handshake to a woman & in Public too! SMH pic.twitter.com/cMaQX3w9Qq

— SPEAKER EMERITUS (@el_lazarus) May 17, 2015
As a Muslim its hypocritical to justify buhari's handshake. You'll be held responsible and you shall explain to Allah why u promoted it

— Hassan Sani (@Noble_Hassan) May 17, 2015
The last public handshake took place on Friday during the wedding of Adams Oshiomhole, the governor of Edo State. Buhari was photographed shaking the hand of Lara Forte, Oshiomhole's new wife and ex-beauty queen.
Nothing new about Northern muslims not shaking the opposite sex. I learned that at work very early. You just need to respect their beliefs.

— Henry Okelue (@4eyedmonk) May 17, 2015
Oga, just because a Saudi King does it doesn't make it right. Islamically RT"@DOlusegun: *cries in hypocrisy* pic.twitter.com/BTSAJXGlbr"

— Peacock (@dawisu) May 17, 2015
It's amazing how people tell you how you should practice your religion, people who know nothing about it. Interesting times we live in ????

— Peacock (@dawisu) May 17, 2015
According to some of the conservatives,Islam prohibits a man shaking the hands of any female that is not his wife.