I Have Evidence PDP Chairman, Mua'zu Worked For APC – Governor Fayose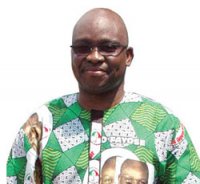 by Deji Abiodun
Ekiti State Governor, Ayodele Fayose, who is one of those calling for the resignation of the National Working Committee members, said he had evidence that Mu'azu helped the APC to win the elections on March 28 and April 11.
Fayose, in a statement by his Special Assistant on Public Communications and New Media, Lere Olayinka, wondered how the PDP could lose woefully in Bauchi State where Mu'azu, Governor Isa Yuguda and the Minister for the FCT, Bala Mohammed, hail from.
He said, "How do we explain the PDP losing so scandalously in Bauchi State despite the presence of the National Chairman, the FCT Minister and the state governor?
"I am even more particular about the national chairman because he sold the party to the opposition. I have cogent evidence of his unholy alliance with the opposition before the elections and if they go any further, I will expose all his underhand deals.
"I want to say it again that I have no apology for calling for the resignation of the NWC members, especially the national chairman. After all, someone resigned his position as the national chairman for Alhaji Mu'azu to assume office."
The governor said in saner climes, Mu'azu would have been made to resign, adding that a general who leads his men to defeat should not be allowed to be in charge again.
He also berated the PDP National Publicity Secretary, Olisa Metuh, for claiming that governorship aspirants were given about N100m each to campaign.
Metuh had also blamed Jonathan's campaign team and overzealous supporters for the defeat of Jonathan and the PDP.
He specifically mentioned hate campaign against Buhari, who he said was revered in the North as a contributory factor for PDP's poor performance in the region.
Fayose had spearheaded a series of controversial campaigns against Buhari before the elections.
However, Fayose said it was unfortunate that the NWC could indirectly accuse him of contributing to Jonathan's defeat.
The governor said all he received from the PDP during the June 21, 2014 governorship election and the March 28 and April 11, 2015 elections was N30m.
He said, "I have no apology on my position on the NWC because their responsibility as a party does not take away their failure in the last general elections.
"Only N30m was received for the last two elections and to the glory of the Almighty God and support of Ekiti people, we won all elections outright. I therefore demand the mode with which money was released to me by the NWC."