Tinubu Wants George Akume As Senate President, While Amaechi Prefers Bukola Saraki [Report]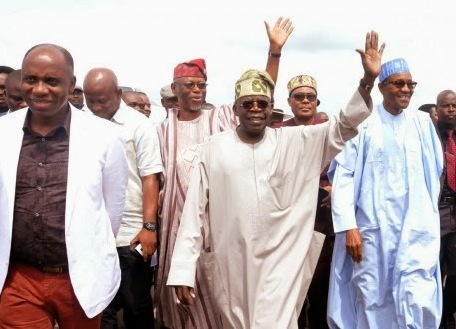 As the contest for the office of the Senate President intensifies, various political blocs in the All Progressives Congress (APC) have thrown their weights behind different gladiators for the office.
Prior to the emergence of Major-General Muhammadu Buhari as the president-elect, there were three political blocs within the APC, which won the March 28, 2015 presidential election and secured majority seats in both the Senate and House of Representatives.
These political blocs include the Buhari/Northern bloc which is made up of the president-elect and his supporters who have been with him for 12 years and collapsed their structures into the APC during the merger process; the Tinubu/South-west bloc led by former Lagos State Governor, Senator Bola Ahmed Tinubu; and the former Peoples Democratic Party (PDP) governors who decamped to APC in 2013 led by Rivers State Governor Chibuike Amaechi and Senator Bukola Saraki.
Hence, the battle for who occupies which position is championed by these blocs with the possibility of arriving at a consensus in the end.
It is against this backdrop that the Tinubu bloc has thrown its weight behind Senate Minority Leader, Senator George Akume, for the office of the Senate President while the Amaechi bloc is pushing hard for the emergence of Saraki.
A top source in the Tinubu camp told GoldmyneTV on Monday that Akume has the backing of Tinubu and his group which is believed to be the strongest bloc in the party, but may not have the number in the Senate to push through their goal.
According to him, the group is supporting Akume for three reasons. First, he said Akume has been with Tinubu's group since its days in the ACN, culminating in his emergence as the Senate minority leader.
Second, he said Akume is senior to Saraki in the Senate having been in the Senate since 2007 while Saraki became a senator in 2011.
Third, the source said Tinubu and his men understand Akume far better than Saraki whom he said is not close to the bigwigs in the group like Akume.
"The Tinubu group is backing Akume because Saraki seems to be more or less an outsider (to the group). Besides, Akume has long been in ACN and he is a senior to Saraki. He is also better understood by Asiwaju than Saraki," the source said.