Fuel Scarcity Hits Abuja As Black Marketers 'Set' Template For N250 Per Litre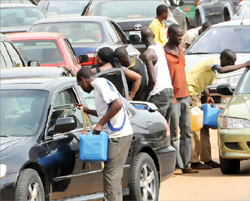 Fuel scarcity continues to bite hard in Abuja, as a litre of fuel is currently going for about N250 in some parts of the Federal Capital Territory. According to investigation from the Punch, black market operators have replaced filing stations as the only means of purchasing the product, using jerry cans to replace the nozzles.
Sadly, the scarcity that started a few days before the commencement of the general elections in Nigeria, is ongoing and the product retailers, have cashed in on this, to rule the local fuel market in Abuja.
Findings revealed that, with these black market operators, fuel is sold for as much as N250 per litre, whist the few filing stations who had the product sold for N130.
It is so bad that most filing stations in the city centre do not have fuel to sell as they were mostly shut. The reason for the fuel scarcity was attributed to marketers who refused to lift petrol to Abuja since Thursday on the back of claims that they are yet to be paid their subsidy claims.
Meanwhile, the PPPRA had on its website a fuel price of about N119.39 suggesting a fuel subsidy of N32.39