Sambo Heads Transition Committee For Jonathan & Bakare Heads Buhari's Team As They Begin Sitting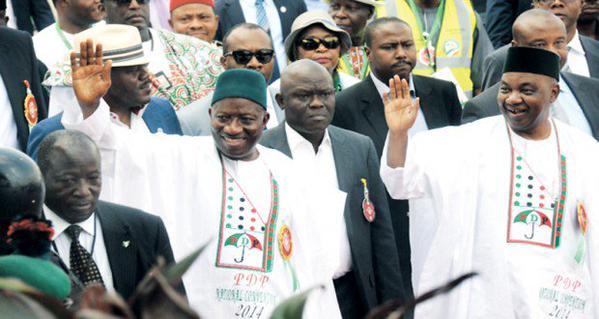 The transition committee, set up by President Goodluck Jonathan, to facilitate smooth transition of power to the President-elect, Maj.-Gen. Muhammadu Buhari (retd.), on May 29, started sitting on Monday.
THE PUNCH had reported exclusively last Wednesday that Vice President Namadi Sambo might head the committee.
Although no formal statement had so far been issued by the Federal Government on the composition of the committee, Sambo presided over the meeting, an indication that he is the head of the team.
At the end of the meeting, Secretary to the Government of the Federation, Senator Pius Anyim, fielded questions from State House correspondents.
He said the committee met to discuss its terms of reference and develop guidelines for the preparation of handover notes.
"We met to discuss the terms of reference and develop the guidelines for preparing the handover briefs and the committee adjourned to April 20 for its second meeting," he said.
Explaining the committee's mode of operation, Anyim said it would first collect briefs from all Ministries, Departments and Agencies after which the data would be collated.
He said once that was concluded, the Sambo-led committee would then proceed to interface with the transition committee put in place by the President-elect.
The SGF explained that the interface would afford them the opportunity to offer clarifications and answer questions that might be raised by the Buhari's committee.
"Ours is to collect our own hand over briefs, prepare the briefs and prepare the President handover notes.
"The terms of reference of our own committee is to collate relevant information for the handover briefs from all the MDAs, prepare them and interface with the incoming administration's transition committee," he explained.
Meanwhile, Nigeria's President-Elect, Muhammadu Buhari has also appointed the General Overseer of the Latter Rain Assembly, Pastor Tunde Bakare to head the transition committee, as he makes his first ever appointment.
Buhari at the weekend said only credible, patriotic and knowledgeable Nigerians would make up the transition committee, as part of the first steps to chart an entirely new path for the country.
Screening of members of the transition committee, which will meet with a similar committee from the presidency on the handover from the Goodluck Jonathan administration to the incoming Buhari-led government.
READ More about the Muhammadu Buhari committee to be headed by Pastor Tunde Bakare…