European Union Observers Meet President Jonathan, Laud Him For Concession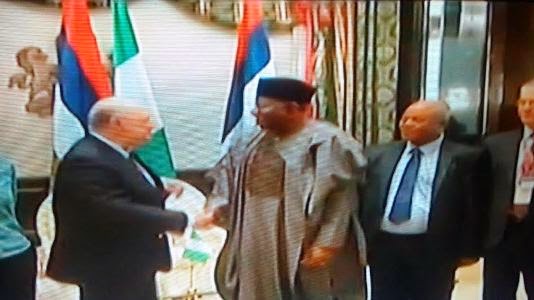 By Chris Nomjov
President Goodluck Jonathan had a closed door session  with members of the European Union Observers group at the presidential villa earlier today. The group, led by Mr Santiago Fisas, praised President Jonathan for conceding defeat after loosing in the 2015 presidential election. The group said Pres. Jonathan is a true symbol of democracy and is worthy of emulation not just by other African leaders but all leaders in the world.
It would be recalled that the group gave a pass mark on the elections so far in the country. The European Union team said that there was no evidence of systematic manipulation of the electoral process by the stakeholders.
The European Union Election Observation Mission in Nigeria made the submission in its preliminary findings released in Abuja, on Sunday.
Head of the team, Santiago Fisas had told journalists that although the highly competitive election tested the Nigerian electoral arrangements, systematic weaknesses left the process open to abuse by electoral contenders.
The mission also noted that there was misuse of incumbency by parties at the federal and state levels occasioned by escalating incidents of violence and intimidation.
The mission gave the Independent National Electoral Commission at pat on the back, saying that it ''appears to have performed impartially in difficult circumstances while stakeholders at a local level report confidence in its work''.
The European Union Election Observation Mission (EU EOM) is led by Chief Observer Santiago Fisas Ayxelà, Member of the European Parliament from Spain. An advance team observed voter registration and party primaries in 2014. Nine core team analysts arrived in Abuja from 6 January 2015.
The core team analyses all aspects of the elections including the legal provisions, the election administration,  political freedoms and dynamics, and the performance of the media. A group of 30 long-term observers arrived in Nigeria from 12 January.
Shortly before the elections a delegation of Members of the European Parliament will join the mission.  EU diplomats will also join to observe the two election days. In total the EU EOM will comprise of observers from 25 EU Member States as well as Norway and Switzerland.