Jonathan Leads Buhari In Nasarawa, Enugu, Taraba, Abia, Nasarawa, Akwa Ibom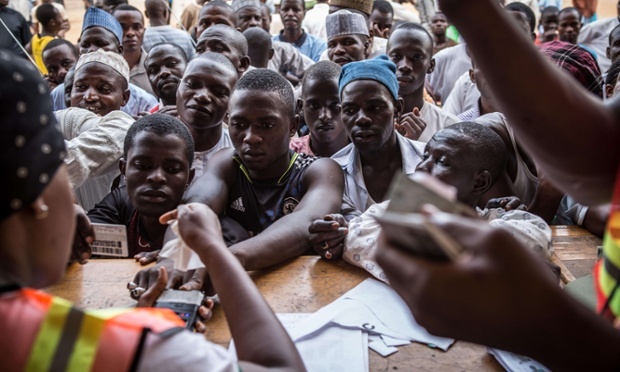 by Deji Abiodun
The Independent National Electoral Commission has released results of the presidential election in the 17 local government areas in Enugu
State.
An analysis of the results shows that President Goodluck Jonathan of the Peoples Democratic Party won in all the local government areas,
recording a combined total of 553,003 votes.
General Muhammadu Buhari (rtd.) of the APC came a distant second with a total of 14,157 votes.
A total of 1,381,563 persons were registered to vote in the Enugu state, but only 616,112 were accredited.
In Opposition Nasarawa, President Goodluck Jonathan of the Peoples Democratic Party has defeated Muhammadu Buhari of the All Progressives Congress in the APC-controlled Nasarawa state.
According to results released Monday morning in Lafia, the Nasarawa state capital, the Inedpendent National Electoral Commission said Mr. Jonathan polled a total 273,460 to beat Mr. Buhari who scored 236,838.
Mr. Jonathan won seven of the 13 local government areas of the state while Mr. Buhari won 6.
Results of 12 out the 16 local government areas of Taraba state have being released .
In LAU LGA: APC —12,588; PDP –18,250
YORO LGA: APC —7,050; PDP –16,908
IBI LGA: APC 12,970; PDP–3,221
KARIM LAMIDO LGA: APC —8,098; PDP —21,419
SARDAUNA LGA: APC —26,982; PDP –20,462
GASHAKA LGA: APC —8,972; PDP–5,500
ARDO KOLA LGA: APC-13,653; PDP-12,034
BALI LGA: APC-20,269; PDP–12,276
WUKARI LGA: APC—11,875; PDP–64,610
KURMI LGA: APC—2,763; PDP–13,011
ZING LGA : APC—5,617; PDP–23, 045
GASSOL LGA: APC-43,426; PDP—8,169
Abia State: Total score: APC-168, 646; PDP-218, 905
PDP 36,167
APC 1,423
Aba North
PDP 36, 238
APC 1, 628
Arochukwu
PDP 17, 702
APC 286
Bende
PDP 18, 963
APC 960
Ikwuano
PDP 11, 819
APC 740
Isiala-Ngwa North
PDP 19, 926
APC 414
Isiala-Ngwa South
PDP 14, 753
APC 391
Isuikwuato
PDP 14, 806
APC 411
Obingwa
PDP 47, 329
APC 964
Ohafia
PDP 30, 919
APC 546
Osisioma
PDP 24, 682
APC 579
Ugwunagbo
PDP 11, 817
APC 320
Ukwa East
PDP 7, 357
APC 381
Ukwa West
PDP 12, 856
APC 312
Umuahia North
PDP 20, 586
APC 2, 206
Umuahia South
PDP 17, 247
APC 1, 192
Umunne Ochi
PDP 15, 136
APC 641
President Goodluck Jonathan of the Peoples Democratic Party (PDP) has recorded a decent win in Akwa Ibom flooring General Muhammadu Buhari of the All Progressives Congress by a very comfortable margin.
In the 14 local government areas announced by the Independent National Electoral Commission in Akwa Ibom, Jonathan is coasting to victory. Below are the results.