Buhari Is Not The Only One Scared Of Debates, Sepp Blatter, Fifa President Rejects BBC And Sky Election Debate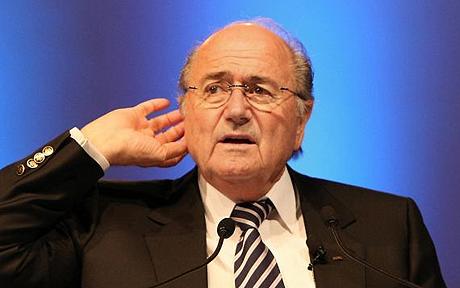 by Zenith Oduah
Nigeria's All Progressives Congress Presidential Candidate, General Muhammadu Buhari is not the only afraid to have an election debate with opponent, Goodluck Jonathan of the Peoples Democratic Party, PDP.
Well, the Fifa president, Sepp Blatter has rejected a joint offer from the BBC and Sky to take part in a televised presidential election debate.
His three rivals accepted the invitation but insisted all candidates must take part in the debate as a condition of their participation.
The BBC and Sky proposal was based around fans asking questions to the candidates.
The Fifa presidential election is due to take place on 29 May in Zurich.
The other candidates in the Fifa presidency election are Jordanian FA president Prince Ali Bin Al Hussein, Dutch FA president Michael van Praag and former Barcelona, Real Madrid, Inter Milan and Portugal winger Luis Figo.
Blatter, 79, is seeking a fifth term of office.
At this stage, the candidates were asked only to express a commitment in principle towards taking part.
Further talks between the broadcasters and candidates would then have taken place over the exact format, location and structure of the debate.