Military Rids Goniri Of Boko Haram, As More Towns In Yobe Are Freed From Grip Of Insurgents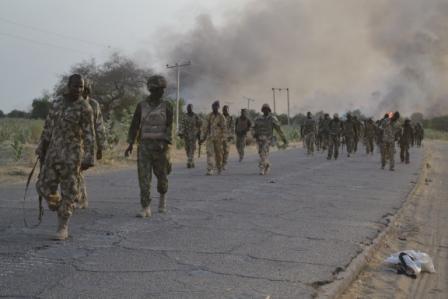 By Chris Nomjov
Defence Headquarters, Monday, said troops had completed clearing out Boko Haram insurgents from Goniri town in Yobe State.
https://mobile.twitter.com/DefenceInfoNG/status/577387721469071360
This follows the news of last week's efforts of troops dominating operations in Kukawa, Geri, Gujba in Yobe to dislodge terrorists from their hideouts in the communities.
"Troops are dominating operations in Kukawa, Geri, Gujba in Yobe, to rid the terrorists on Sunday," a statement posted on the Defence Headquarters' website said.
According to the DHQ, the Nigerian troops had before this success, invaded Kukawa Geri, Gujba in Yobe and were determined to flush out the insurgents from their remaining hideouts.
The military had since liberated most of the local governments and communities previously occupied by terrorists in the affected states.
The Nigerian troops have also routed terrorists from Bara, headquarters of Gulani Local Government Area of Yobe, and Gulak, the headquarters of Madagali Local Government Area of Adamawa. They also liberated Shikah, Fikayel, Tetebah, Buza, Kamla and Bumsa, among others.