@APCNigeria Alleges @PDPNigeria Buying PVCs For N10,000 Each From Voters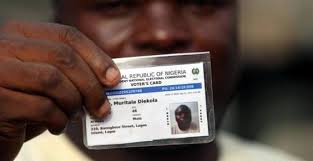 Estimated Reading Time: <1
The All Progressives Congress (APC) has alleged that some people suspected to be agents of the Peoples Democratic Party (PDP) are purchasing permanent voter cards (PVCs) and intimidating some voters to seize their PVCs in the wake of the postponement of the general election.
Speaking on Tuesday through Lai Mohammed, its national publicity secretary, the party said that a company, Agro-Allied Communities Service Nigeria Limited, had been formed ostensibly to provide N50, 000 loan to 'empower' women.
It added, however, that "anyone seeking to get the loan must provide a PVC as 'collateral', which is basically the essence of the establishment of the company that is supposedly a private concern but in reality a PDP front to mop up PVCs, especially in opposition strongholds".
"It is now getting clearer by the day what the PDP-led federal government sought to gain by forcing the postponement of the elections for six weeks, which is to perfect their rigging plans."
The party warned those behind the acts to desist from such tactics, saying it reflected the desperation of some people to hold on to power at all cost, even when it was clear that Nigerians had widely rejected them due to non-performance, massive corruption and profligacy under their watch.
The party appealed to its members and supporters in particular, and Nigerians in general, not to sell their PVCs under any guise, saying that is the only power they have to effect a meaningful change that can ensure the deliverance of democratic dividends to them.
"Our members have alerted us to the fact that PDP agents have been operating in all villages between Kobape and Orile-Imo along the Sagamu-Abeokuta expressway in Ogun State, giving N10, 000 to each poor villager and collecting their PVCs," the APC said.
"The PDP agents are also promising each villager a monthly stipend of N10, 000 if and when their party assumes office in the state. Indications are that this objectionable PVC mop-up is being replicated in all opposition strongholds by the frenzied PDP, hence we at the APC have decided to alert the nation to the reprehensible act."