Final Onslaught: Nigerian Troops Invade Sambisa Forest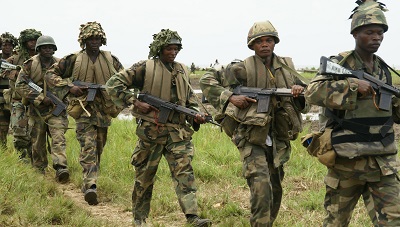 As part of measures to contain and quell the Boko Haram insurgency, the military has stormed the insurgents in Sambisa Forest, their notorious hideout, according to reports from the Hausa service of the British Broadcasting Corporation (BBC).
The Director of Defence Information, Maj-Gen Chris Olukolade, told the agency that the military had been raiding the forest and other hideouts of the sect since Tuesday night.

According to the agency, the army used it war drones to level some of the Boko Haram camps in the northeast but it was not clear about the casualties on both sides. The army said that they are still committed to securing the civilian population at whatever cost.

"We are still committed in ensuring that we degrade their ability to continue their activities and eventually eliminate them," Olukolade said.

"The mission is on. There are no allowing terrorists anywhere. As many times as they come, it will only give us the opportunity to decimate them."

On Saturday, Chadian forces reclaimed the northeastern Nigerian town of Gamboru-Ngala after a heated battle with Boko Haram that involved a ground and air campaign. Gamboru-Ngala, about 145 kilometres east of Maiduguri, was captured by Boko Haram last year.

A soldier involved in the operation said Chadian forces were working under the African Union agreement to help Nigeria in its fight against Boko Haram.

The Leadership reports that, yesterday, troops of the Nigerian Army under directive to invade Sambisa forest in Borno State with a view to end the years of Boko Haram insurgency, have started bombarding the fringes of the forest near Adamawa state.

Sources close to the area have confirmed that aerial bombardment had commenced yesterday.
A soldier serving with the 7 Division, Nigeria Army, Maiduguri confirmed this development to Leadership even as he begged not to be quoted in this report.

According to him, "special forces have been mobilised from different part of the country, especially the 81 battalion, to Yola over the weekend and the operation starts today (Monday).
"What people may have heard or seen today may not be unconnected with the operation. They have to do the bombardment of the forest starting from the fringes before the artillery troops would begin to advance. But be rest assured that before the end of this week the forest as well as many communities under the control of Boko Haram would be reclaimed".

The soldier said himself and most of his colleagues were happy with the resolution of the United Nations for agreeing to constitute an international joint task force to deal with the Boko Haram.