Buhari Was A Failure As Head Of State – Alhaji Shehu Shagari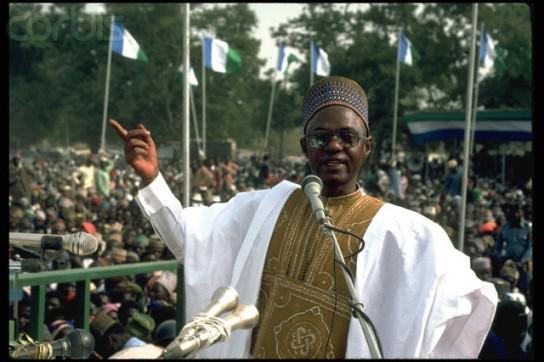 The Road to the 2015 general elections in Nigeria gets interesting as Nigeria's Former President in the second republic, Shehu Shagari is quoted to have said Muhammadu Buhari was a failure as head of state.
Major-General Buhari who is said to have staged a coup of December 31, 1983 that overthrew the democratically elected government of President Shehu Shagari for the fourth time is contesting to win the February 14, 2014 polls on the platform of opposition All Progressives Congress.
Shagari is a northerner of Fulani extraction and holds the aristocratic title of Turakin Sakkwato in the Sokoto Caliphate.
He has been quoted by the ruling People's Democratic Party, PDP to have slammed Buhari's regime as head of state..
Buhari Was A Failure As Head Of State – Alhaji Shehu Shagari pic.twitter.com/I12IMJVm3j

— PDP Nigeria (@PdpNigeria) January 20, 2015
The trains are back on track, even my 27-year-old grandchild boarded one for the first time in his life in 2014 – Alhaji Shehu Shagari

— PDP Nigeria (@PdpNigeria) January 20, 2015
GEJ's admin. was the first to construct 125 modern Almajiri Schools and 12 universities in a short period of time. - Alh. Shehu Shagari

— PDP Nigeria (@PdpNigeria) January 20, 2015
Now I may ask Nigerians, what are Buhari's developmental strides as Nigeria's head of state for the period in question? – Alh Shehu Shagari

— PDP Nigeria (@PdpNigeria) January 20, 2015