Breaking: Nigeria Reduces Price Of Petrol To 87 Naira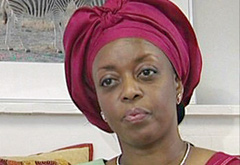 Nigeria's Minister of Petroleum Allison Madueke has announced the reduction in the Pump Price of Petrol from 97 to 87 Naira per liter..
Following the slide in oil prices the Federal government had been criticised for maintaing the initial 97 naira. Presidential Spokesman Dr Reuben Abati in a tweet said, "Petroleum Minister Alison-Madueke announces a N10 reduction in pump price of petrol from N97 per litre to N87 per litre effective midnight"..
The Minister of Petroleum Resources, Diezani Alison-Madueke, said at an ongoing press conference that the new price regime would take effect immediately.
Mrs. Alison-Madueke said the N10 reduction in fuel price was necessitated by the reduction in crude oil prices in the international market.
The new measure is a reversal of government's policy on the matter. The Minister of Finance, Ngozi Okonjo-Iweala, had insisted on December 17 that Nigeria would not reduce the pump price of fuel despite falling oil prices at the international market, until the revenue crisis occasioned by the dwindling oil rates is over.
Mrs. Okonjo-Iweala said at the time that the decision to review fuel price either upwards or downwards would only be taken after the current crisis in global oil prices had been settled.
NewsWireNGR recalls opposition All Progressives Congressd had called for an immediate reduction in the pump prices of petroleum products in view of the crash of the price of crude oil in the international market.
The reduction of price of petroleum product is the first since late President Umaru Yar'adua reduced the price of PMS on assumption office as President in 2007 following Obasanjo's exit in office..