Meet Muhammadu Buhari's Running Mate, Prof Yemi Osinbajo [A Complete Profile]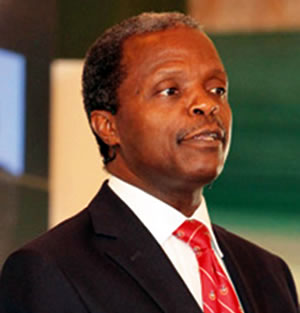 Professor Yemi Osinbajo, Wednesday, emerged the running mate to the All Progressives Congress Presidential candidate, Gen. Muhammadu Buhari.
Here is a profile of the former Lagos State Attorney General and a Snr. Pastor in the Redeemed Christian Church of God(RCCG).
Yemi Osinbajo, 55, is a Senior Advocate of Nigeria and Senior Partner in the Law firm of Simmons Cooper Partners.
His tertiary education was at the University of Lagos and the London School of Economics where he obtained the LLB and LLM degrees respectively.
He was appointed the Lagos State Attorney General and Commissioner for Justice in 1999 and reappointed for a second term in 2003. During the period of his public service, he commenced the Lagos State justice reform project. A prominent feature of that project was the establishment of the Directorate for Citizens' Rights (DCR) which provides free legal services and legal representation to indigent citizens of the state. This initiative gave a voice to many who would otherwise not have a way to access their rights.
Prior to that appointment, Osinbajo, a Professor of Law, was the Head of Public Law at the Faculty of Law, University of Lagos.
Between 1988 and 1992, he was the Special Adviser to the Attorney-General and Minister of Justice of the Federal Republic of Nigeria. He also served as a staff member of the United Nations and Member of the United Nation's Secretary General's Committee of Experts on Conduct and Discipline of UN Peacekeeping personnel around the globe.
He is currently an Ethics Advisor to the Ethics Committee of the African Development Bank and is a non-executive Director of Citibank.
Prof. Osinbajo is Co-founder & Board Member Convention on Business Integrity and the Justice Research Institute Ltd. He has also authored several law books.
In 2007, Prof. and his wife Oludolapo founded "The Orderly Society Trust", a non- governmental organization that is dedicated to the promotion of Christian ethics and orderliness.
He is a resident pastor at the Olive Tree House of Prayer for All Nations, Banana Island, a parish of the RCCG.
He lives in Lagos with his wife,Dolapo Osinbajo, who is a grandchild of Obafemi Awolowo with three children.
He was admitted to practice before the Supreme Court of Nigeria in 1979. He has authored several books on civil procedure in Nigerian superior courts, rules of evidence and justice reform.
Yemi has 31 years of litigation experience including significant trial and appellate work. Yemi supervises the commercial litigation group at SimmonsCooper Partners (SCP), a leading commercial litigation and corporate commercial firm in Nigeria. With a multi-jurisdictional competence spanning Nigeria, the United States and the United Kingdom, SCP fuses sound legal counsel with superior advocacy, and personal and responsive service. SCP provides a very comprehensive and integrated range of litigation, transactional, advisory and several support services to a vast array of clients.
Yemi has conducted very important constitutional and precedential cases before the Nigerian Supreme Court. Some of these include fiscal disputes between the federating units and the federal government; disputes regarding the ownership and control of oil and gas resources; town and physical planning disputes between the federating units and the federal government; an international territorial jurisdictional dispute in the West African sub-regional court; shareholder disputes involving a multinational, private investors and state-owned investment corporations and energy disputes arising from multinational participation in power projects in Nigeria. In other cases, Yemi has advised and represented clients in a broad range of commercial and corporate issues including securities litigation, investments and divestments, joint ventures, oil block acquisitions, product liability, fiduciary duties of directors, intellectual property, and corporate valuations. He is also involved in statutory and regulatory appraisal representation before the legislature and federal and state agencies.
While in public office as attorney general, Yemi is credited with undertaking far-reaching significant judicial reform in Lagos state, addressing critical areas as judges' recruitment, remuneration, training and discipline. In addition, he addressed access to justice for the poor by establishing appropriate institutions in the Office of the Public Defender and the Citizens Mediation Centre. In honour of his contributions to legal reform and the development of law in Nigeria, a compendium of essays on Nigerian constitutional law was compiled. The authors of these essays were senior lawyers and law professors with a foreword provided by a past chief justice of Nigeria.
Yemi is a member of the International Bar Association and the British Institute of International and Comparative Law and has served in the Nigerian Body of Benchers and the Council for Legal Education of Nigeria. He is currently an independent director of CitiBank Nigeria and an ethics adviser to the board of the Africa Development Bank. He has also served in various capacities within the United Nations Organisation. Yemi speaks frequently at several commercial litigation events locally and internationally. He is actively involved in the pursuit of legal education reform in Nigeria.
Additional Content Credit:WhosWhoLegal