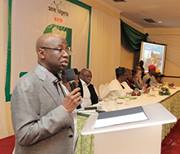 The Convener of Save Nigeria Group (SNG), Pastor Tunde Bakare, yesterday accused former President Olusegun Obasanjo of laying the foundation for corruption to thrive in Nigeria.
Bakare made this allegation while speaking at the 10th Chief Gani Fawehinmi Annual Lecture/Symposium organised by the Nigerian Bar Association (NBA), Ikeja branch with a theme titled "Nigeria at Centenary: A Nation Still in Bondage?
According to the cleric, Obasanjo raised the mountain of corruption to an unimaginable peak despite the golden opportunity presented to him to liberate the country after his ascension to the highest office in the land.
Bakare also accused past leaders of keeping Nigerians in total bondage for years and that the country is yet to attain some measure of freedom even with the coming of democracy in 1999.
He said, "with a culture of corruption, impunity and sectional interest that pervades every sector and every level of the social cadre; and with pseudo-federal structure that constrains the birth and development of true nationhood Nigeria is not yet free.
"The capacity of the constituents to develop at their respective paces has been hindered because institutions in the country only serve the interest of a privileged few who have cornered the resources of our country.
The country can not develop with a judiciary that will set free perpetrators of multibillion naira theft and send pepper and onion thieves to jail; not with legislatures that consume the greater percentage of the country's recurrent expenditure, making laws that have no bearing on the welfare of the people and defending positions like child marriage that perpetuate socio- economic bondage" he stressed.
Additional Content Credit: Leadership
Related Posts via Categories